Projects/ Energetic industry
Automated controlling system for 3А, 3B conveyors of coal mass flow
Client: "AES CHP (Ust – Kamenogorsk Central Heating Plant) JSC"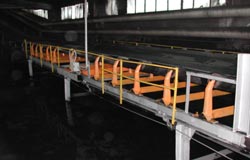 Controlling system of coal mass flow (hereinafter – the system) is designated for automatic operative accounting with set error of coal expended in technological processes in "AES CHP (Ust – Kamenogorsk Central Heating Plant) JSC". Functional designation of the system – control the mass of coal coming into boilers on 3A and 3B conveyors.
Procedure description:
Coal from depots, after grinding is directed to 3A or 3B to be put into boilers.
Automation system requirements:
Program-technical complex (PTC) was created as restorable and repairable system designated for long-term functioning with possibility for further upgrading.
The system provides:
automatic rerun at programme-technical complex malfunction;
displaying failure massages of separate components at workstation screen;
the workstation is organized to avoid dangerous situations for personnel caused by misoperation or equipment failure;
any shutdown of hardware is registered automatically;
input of management programs, normative-reference data and settings is made under password;
communication of operator and system is run in Russian language with queries and various menus.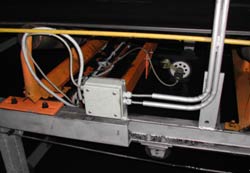 Two-shift work schedule is ensured:
-1st shift – from 08:00 till 20:00;
-2nd shift - from 20:00 till 08:00.
Shift, day and month values of consumption are being summarized and archived during every year.
Solution and characteristics of automation system:

The system comprises:
АКВС-1 automatic conveyor scales, manufactured by SINETIC CJSC, №1785 certificate of weighers approval, Republic of Kazakhstan;
SIMATIC S7 based controlling system;
SIWAREX U weighing module;
Velocity inspection sensor;
ОР-7 operator panel;
Visualization subsystem software for operator workstation;
Workstation computer.
Project implementation period:
Start-up: December, 2005.
About "SINETIC" Co.Ltd engineering company

Address:
Ust – Kamenogorskб 181/3, prospect Abaja, office 406



Phones:
(7232) 55-02-04 Reception
(7232) 55-01-20 Director
(7232) 55-03-80 Technical Director
(7232) 55-08-32 Vice technical director
(7232) 23-00-05 Commercial department
(7232) 55-02-60 Technical department
(7232) 23-00-09, 23-00-12 Delivery group



Fax: (7232) 55-02-04


E-mail: ustkam@sinetic.kz