Projects/ Energetic industry
Automated controlling system for № 10 turbine set
Client: "AES CHP (Ust – Kamenogorsk Central Heating Plant)"
Procedure description:
Т-50-130 steam turbine with nominal power = 50 000 kW at 3000 rpm, with steam condensation and two- stage network water heating is designated for direct drive of hydrogen cooled ТВФ(TVF)-60-2 AC generator.
The turbine appears as twin-cylinder aggregate, comprising 25 turbine stages. The turbine is intended to operate under live steam with pressure of 130 atm. and temperature of С. Maximum steam admission is 265 t/hour.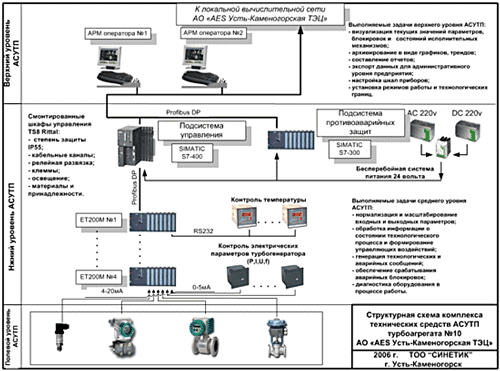 Automation system requirements:
Automatic Process Control System (APCS) for №10 turbo generator:
controls and regulates the technological process in automatic mode;
provides the operative personnel with process parameters status data;
effectively detects emergency situations;
ensures the flexibility of automation system which will allow to complete and modify the system without deep technical alterations;
creates documents displaying development of the process within a shift, day, etc.
Solution and characteristics of automation system:
Automatic Process Control System (APCS) for №10 turbo generator appears as two-level decentralized system.
Upper level is formed on the basis of two personal computers with installed PCS7 Single Station and Windows 2000 Pro software. Upper level ensures the realization of the following functions:
polling and maintaining the database on the information received from technological nodes;
archivation of database for the period, not less than 30 days from the current date;
displaying and alarming about declination of technological parameters;
displaying and alarming about equipment status;
setting upper and lower technological and emergency limits of analog parameters;
creating reports, etc.
Lower level appears as a complex comprising control subsystem and anti-emergency protection subsystem. It is formed on the basis of S7-400 controller with CPU414-3 central processor and three ET200M input-output stations. Anti-emergency protection subsystem is formed on the basis of S7300 controller with CPU314C-2DP central processor. The power supply is delivered from reserved power box.
Data interchange between upper and lower levels is organized via PROFIBUS –DP lines.
Project implementation period:
Start-up: 2006.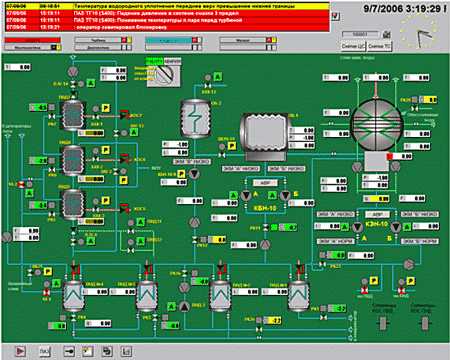 About "SINETIC" Co.Ltd engineering company

Address:
Ust – Kamenogorskб 181/3, prospect Abaja, office 406



Phones:
(7232) 55-02-04 Reception
(7232) 55-01-20 Director
(7232) 55-03-80 Technical Director
(7232) 55-08-32 Vice technical director
(7232) 23-00-05 Commercial department
(7232) 55-02-60 Technical department
(7232) 23-00-09, 23-00-12 Delivery group



Fax: (7232) 55-02-04


E-mail: ustkam@sinetic.kz