Projects/ Energetic industry
Automation System of the Pump Station №6
Customer: JSC "Astana-Teplotransit", Astana
Automation Object Description

While reconstructing the pump house in 2008 at pump station №6 the existing main return water-line having three pumps operating from the electromotors 3 x 6 kV was added another supply main equipped with three main-line pumps Grundfos - TP 400-760/4. The pumps Grundfos are supplied with electromotors Siemens 3 x 0,4 kV, 630 kilo watt. To perform pressure control in the mains the pumps operate from the frequency converters. Each pump electromotor of the supply main 0,4 kV operates from the frequency converter «Siemens» - SINAMICS S150. Each pump electromotor of the main return line 6kV operates from the frequency converter «Siemens» - ROBICON.

The supply main pumps
The pump house functionality is pressure maintenance in the pumping head and pressure maintenance in the main return line suction drum. The above mentioned operations provide reliable and qualitative heating of both the Rightbank and the Leftbank parts of the city.

Automation system requirements
The automation system is to control and regulate heating technological parameters in automatic mode. The automation system performs the following functions in the automatic mode:
start fit check and setting the pumps in operation in automatic mode;

heating technological parameters control and the frequency converters and the pump electromotors control;

the emergency stop in case of the workflow emergency values;

elaborating the signaling system in case the parameter exceeding the control bounds;

the pumps rest in automatic mode;

pressure maintenance in the pumping head by the supply main pumps revolutions;

pressure maintenance in the main return line suction drum by the main return line pumps revolutions;

even load maintenance in the twin pumps;

automatic switching between the pumps in operation without any significant deviations of the parameters under control.
The remote control of the pump house is possible from the operator's room in the territory of the house and from the central control station; the connection with it is performed via Radio-Ethernet.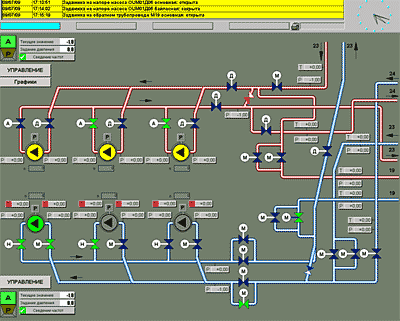 The Main Symbolic Circiut
The System Structure
The automation system is based on the controller SIMATIC S7-300 with the central processor unit CPU 315-2DP. The multiple controller configuration is provided with the interface modules IM361 and IM360.
The frequency converters SINAMICS S150 operation control is performed via Profibus. The frequency converters ROBICON operation control is performed via discrete and analog signals.
The upper level is the work place of the operator on the base of the SIMATIC RACK PC with the software PCS7 OS Single Station v6.1. The connection between the controller and PC is performed via Industrial Ethernet. The connection with the central control station is performed via the special Radio-Ethernet channel.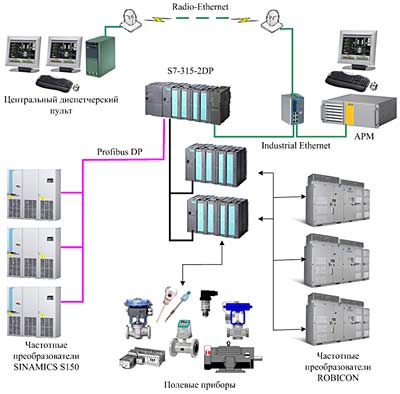 Структурная схема КТС
Complex Technical Means Structure Scheme
The time of the project realization
It was put into operation in the year 2008