Projects/ Energetic industry
Dozing System and Technological Parameters Control
Customer: JSC "Orica-Kasakstan", Ust-Kamenogorsk
Automation object description
The automated setup is for constant dozing of aluminium and saltpeter to keep the given recipe task. The purpose is to feed the mixture with the given proportion of aluminium, saltpeter, emulsifier, oxidizer and paraffin into the technological process.
Emulsifier, oxidizer and paraffin are preliminary mixed in the special mixer and are put into the horizontal mixer. The aluminium and saltpeter are also fed from the dozers. The final mixture is fed to the receiving tank from where it is fed to the technological process by a pump.
The present setup Rospen was supplied with the control system that was taken out of production and was deprived of technical maintenance in case of failure. Thus, the problem was solved by replacing the automation control system Rospen by Siemens.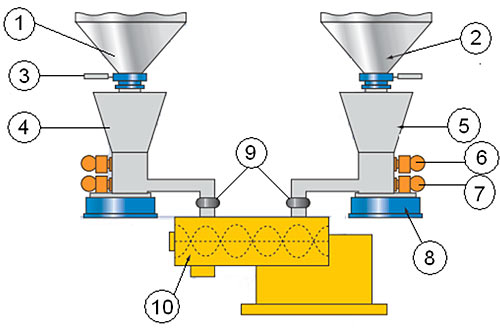 Dozing setup layout
the main aluminium bin
the main saltpeter bin
the dozer filling valve
aluminium dozer receiving tank
saltpeter dozer receiving tank
agitator motor
dozer screw electric drive
weight measuring platform
dozers cutoff valves
mixer
Dozing system operation principle
The main difficulty in the software elaboration was the absence of the source code and of the information about the present system operation.  Algorithmic decisions were found just from nothing but analyzing the operation of the system modernized.
The main principle of the dozer operation is constant mass measuring of the substance dozed. The dozer setting together with the receiving tank is located on the weight measuring platform so that the main bin mass did not influence the measuring platform. Computing the mass changes of the dozed substance in the receiving tank the automation system calculates the dozer's current productivity. The given productivity is supported by proportion integrating regulator, forming the task for frequency converter controlling the rotation of the unloading auger of the dozer.
Such dozing mode is called gravimetric. The periodical substance refilling of the receiving tank takes place regularly from the basic bin by opening the correspondent refilling valve. During the refilling process the dozer's regulator is switched into the volume dozing mode.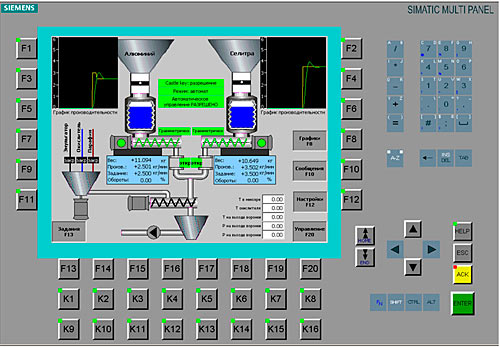 Operation panel MP277 and the main symbolic circuit of the process
The system structure
The lower level of the system was designed on the base of the controller SIMATIC S7-313C. The ABB frequency converter controlling is carried out by means of discrete and analog signals. The tension sensors of weighing measuring platforms signals are transmitted to Siwarex U modules.

The  interface of the system is the operator's panel MP277. The operator's panel is connected to the controller via MPI. The control of the technological process of dozing is carried out from the operator's panel. This control includes the dozing process, parameters control, calibration and installation-specific settings of the automated control system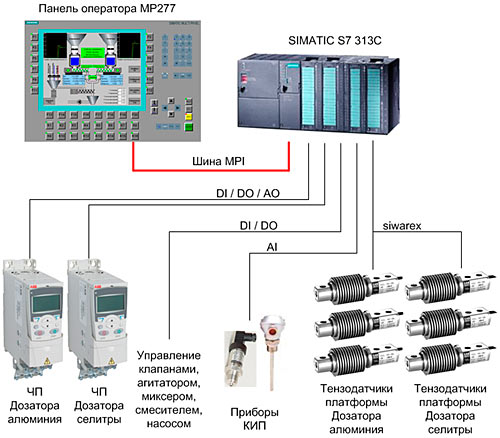 The main symbolic circuit
The system was put into operation in 2011.