Projects/ Energetic industry
Automation control system reconstruction of steam generating units in stations №1 and №3
Customer : AES Sogrinsk  HPP, Ust-Kamenogorsk.
Automation object description
At Sogrinsk HPP steam generating unit БКЗ-160-100 of Barnaul Boiling Plant are applied. The steam generating units are vertical water-tube with natural circulation, single drum, and large-grained construction and of П-like assembling. The steam generating unit is to operate with the following parameters:
productivity                                            160 ton per hour;  
superheated steam pressure behind steam valve -100 at;
superheated steam temperature                -540 ºС± 2ºС.     
Automation system purpose
The automated control system is a unitized module system that can be gradually extended. At the present stage the restoration was performed for steam generating unit №1 and № 3.
The main automated control system functions are:
automatic keeping the level in the drum;
automatic regulation of heat load;
automatic regulation of the superheated steam temperature;
emergency protection (for steam generating unit №3);
technological information display as symbolic circuits with different refinement degree;
technological process variables storing;
signaling and registration the messages of exceeding the emergency, warning and technological  limits;
system operability diagnosing;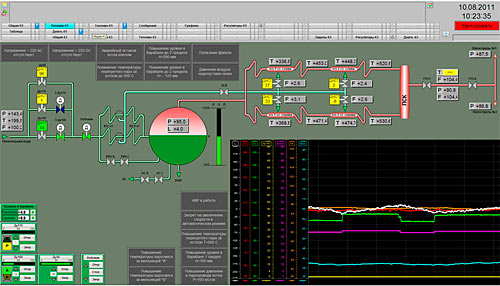 Symbolic circuit : the steam generating unit № 1 feeding
The system structure
The lower level of the system for each of the units is designed on the base of reserved controller S7-414-4H with input/output stations ET200M,that collect and process the technological parameters and control actuators. Input/ output stations ET200M are performed with the function of "emergency replacement", i.e. have a possibility to replace the functional modules without switching off the controller and interrupting the technological process. The communication between the controller and input/ output stations ET200M is carried out via the reserved network PROFIBUS DP. The communication with the frequency converters of spray feeders is carried out via PROFIBUS DP.

The upper level of the system is a reserved server PCS7 OS Server that has as clients connected an operator's workstation of steam generating unit №1, an operator's workstation of steam generating unit №2. Each of the workstations is supplied with two displays with 21'' diagonal.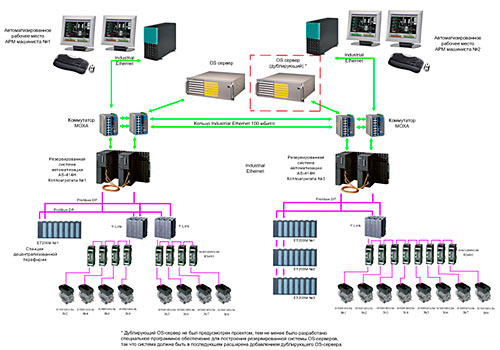 Symbolic circuit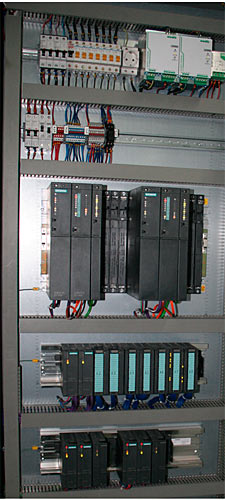 Automation system control cubicle of the steam generating unit №1
The automation control system was put in operation in 2011.