Projects/ Construction industry

Elaboration and putting into operation the Workflow Automated Control System of the JSC Bukhtarma Cement Company


The Automated System of Autoclave Unit at the Aerated Concrete Plant


№4 kiln


Dosers


Automation system of the plant of aerated concrete productions
Automation system of autoclave facility at aerated concrete plant
Client: "Ecoton+" OJSC Astana
Procedure description: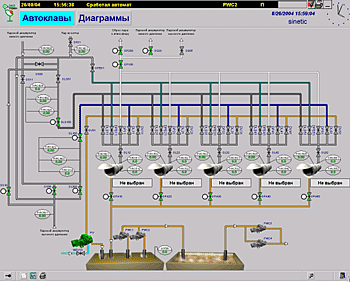 Autoclave facility consists of 5 autoclaves designated for material hardening. Hardening is run in several stages at definite pressure and temperature. Autoclaves are operated by saturated steam which is produced in local boiler house.
Automation system requirements:
Preserving definite pressure and steam consumption depending on hardening stage.
Steam manifold valves management
Vacuum and condensate pumps management
Control of technological parameters
Technological equipment diagnostics
Archiving and protocoling of operator's commands
Solution and characteristics of automation system:
System is based on SIMATIC S7-300 controller. WinCC installed PC GEFAHART panel is used as visualization system. Data interchange between controller and operator workstation is run via Ethernet network. Autoclave section possesses 48 analog and 180 discrete signals.
Project implementation period:
Management system designing, mounting, upper and lower levels software designing, start-up and commissioning were carried out in period from 15.01.2004 - 08.08.2004. There has been no admonition and complaints of the Client since the start-up.