Projects/ Energetic industry
"Automation system for №3 dredging pump station
Client: "AES CHP (Ust – Kamenogorsk Central Heating Plant)"
Procedure description: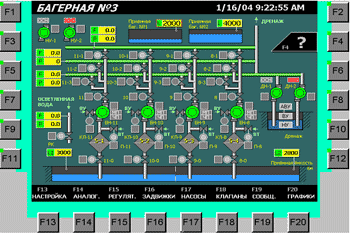 Four dredging pumps (flow = 612 m3/hour, pressure = 110m) work according to one-stage scheme in winter or summer modes. In winter mode – nine boilers operating simultaneously, pulp flow = up to 1200 m3/hour, in summer mode - two boilers operating simultaneously, pulp flow = up to 400 m3/hour.
Ash and slag pulp is pumped to receiver tank, two pumps are run in parallel, pumping pulp to ash pond, the third pump is reserved and the fourth is under repair. Two operating pumps are run according to different sections of receiver tank, in order to get rid of dead zones.

Requirements for automation system:
automatic protection of technological equipment in all operating modes;
automatic control for regulation of technological parameters in operating range;
individual remote/manual control of executive units;
archivation of technological process parameters and print out of report forms;
displaying of current and archived technological data.
Solution and characteristics of automation system:
Automated control and management system for №3 dredging pump station appears as hierarchically divided two-level system.
Lower level, based on "S7-300" controller, which collects and processes the values of technological parameters, delivers commands to executive units in accordance with selected criteria of control.
Upper level includes Р270В operator panel for displaying, storage of the values of technological parameters which can be transmitted via Ethernet to remote computer for further dead storage.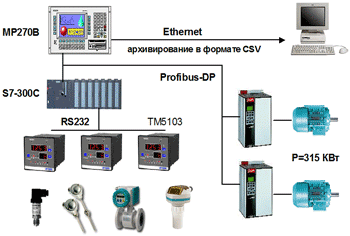 Start-up: 2004